Note: New artworks in the GALLERY and in this POST and this other POST! Check 'em out!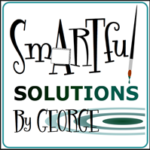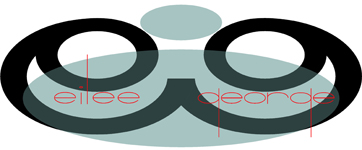 Hi, I'm Eilee George, and I'm an artist working near Denver, Colorado.
I work in various media, especially acrylics on canvas; and sometimes on Masonite, wood, Plexiglas, and other surfaces. I also do work on white, black, or colored papers using Prismacolor pencils, graphite, pastels, and pen.
My work is inspired in part by my photography, and in part by dreams, transcendent emotions, and psychological phenomena, which are expressed through symbolism, abstraction, and/or focus on appropriate elements and principles of design to achieve the desired effect. I work very quickly and intuitively to ensure that the work is infused with the immediate essence of the moment expressed. Playful use of color and dramatic light figure strongly in my aesthetic. I prefer to work large, but I also create medium and smaller works.
I also accept custom commissions, so feel free to contact me with your needs & ideas; I readily brainstorm and accommodate. You can contact me directly via my contact page for questions, commissions and purchases. I plan to deligate a PCI-compliant third-party online market site through which purchases will be possible in the future; until then, please contact me directly via my contact form. I am in the research stage and wading through an overwhelming abundance of options, so if you are an artist/vendor yourself and have any ringing endorsements for a particular one, please contact me here and tell me what it is and why you like it versus others; I will appreciate any input that isn't a blatant spammy sales pitch. If I choose your suggestion I may provide you with a free 8×10 print (only one winner; if multiple people suggested the winning site I will do a drawing among them for the winner, so please include adequate contact info).
The evolution of my artwork will be represented on this site as it develops. To learn more about current events, please visit MY BLOG. To view and go through art lessons in the Elements and Principles of Design and how that applies to drawing and composition, please visit these posts:
Introduction to the Elements & Principles of Design
Elements of Design: SHAPE in Simple SPACE
Elements of Design: FORM, TEXTURE and PATTERN
Elements of Design: HUE, VALUE and INTENSITY
These and additional art lessons can be found in that category of my blog here. There will be more, as I am still developing the series.
The Artist Statement on my About page can be viewed here. Also see my FAQ, and more of my philosophy can be found here.
My more recent artwork can be viewed here.
You can read about my musical pursuits here.
If you live anywhere and want to buy any of the available originals or prints, or to commission custom artwork, or if you live in the Denver/Boulder area and are interested in, for yourself or a family member or friend, tailored private art lessons, you can contact me here. I also teach reasonably-priced beginner lessons in ukulele (technique – not theory), Spanish and Russian language, as well as being an ESL tutor and a Photoshop boss.
I have to say it's been a lot of fun to learn web design in the process of beginning to market my art! I've designed several other sites now; they're clean, attractive, functional and informative. Web design, graphics for print and web, animated GIF art, logos, copywriting and other marketing and branding services are available through our family business, SmARTful Solutions by George, the site for which you can visit by clicking its logo at the top of this page, or just by clicking here.
Thanks for visiting, and I hope you enjoy looking through my art site!
– Eilee
All content on this site © 2013-2018/present L. Eilee S. George; all rights reserved.