Location: ART –

Gallery

– Photo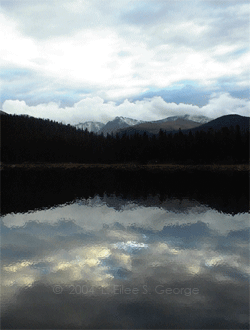 Hello and welcome to the Eilee George photo gallery. On road trips you can barely pry the camera from my hands! I love nature photography primarily (landscape and some wildlife), but I do dabble in other subject matter such as portraiture, interior shots, abandoned places, food photography, pets, documentation and more.
Some of my photos do indeed inspire paintings, but most stand perfectly strong on their own. Here's a sample of those, but there are literally thousands more, so if you have a request, let me know via my Contact page. Don't forget to check out my Twitter and Vimeo pages too, where some of my photography makes more than mere cameo appearances.
Prints can be ordered no larger than 8×10″ and in some cases, 5×7″; please CONTACT for specifics.
Thanks!
♥ – Eilee
NOTE: Soon, I'll be adding my digital art gallery into this one; there is a little overlap, and the same source for the most part.
Little can date me more accurately than my digital art history! Although you won't see anything quite this old, I began in ASCI art on Apple IIe terminals; I worked in the Deluxe Paint II program on the Commodore Amiga; I used MacDraw in Mac's early days. That dot matrix and pixellated output always intrigued me. Later I generated computer graphics in Aldus Freehand, Alias Sketch,  AutoCAD, Microsoft Word, PaintShop Pro, and finally the Adobe Suite. My older graphics are trapped on floppy disks I have no way to view anymore! (Remember A and B drives?) I naturally created out-of-the-box designs in every program I've touched, using what was available. Today I work in Adobe, with help from my in-house expert: my hubby, also a graphic designer. Digital work is starting to bleed out from graphic print to web to video and motion graphics as I move from Adobe Photoshop to Illustrator, then InDesign, and now Premier Pro and After Effects doing my own videos (because I can't afford to hire someone else to, and I have time to learn). They're fun and very complex (uniquely to each other even), very challenging programs that tax my laptop to its utmost; some videos as small as 30 seconds can take an hour just to export to a usable format for posting, so I don't process them that often.
© 2013-2020/present Linda Eilee S. George, all rights reserved.