Hi! Welcome to Eilee's Music About (bio) Category. This category has three pages it links to: Bio, Gear, and Gigs. Depending on whether you're a venue owner, a fan, a musician seeking collaboration, a producer, or any other label you choose, you should be able to find the info you need in one of these areas, if not the Media Kit page under Media).
And here's where you can find that Media content:
Sections on this page include History, Genre & Skill, Influences, Style & Gear, Services, Collaboration, Commissions & Booking, Media, Further Media, and Other Notes.
HISTORY, GENRE & SKILL: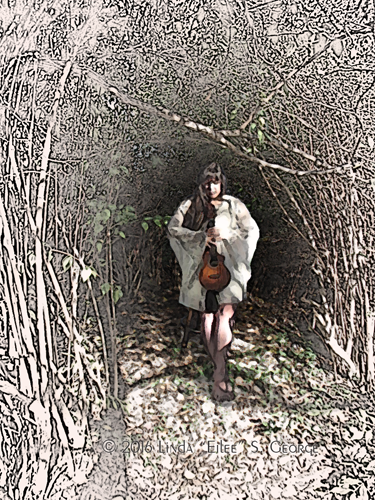 I've been singing since I was little, and have always had a passion for it. My mother sang and played organ in various churches, and at home she taught classical piano. My father sang in a barbershop quartet as an adult, as well as playing brass and percussion in his high school band years ago. Music was part of life even though most of my parents' musical activities were mostly set aside by the time I came along. Despite these influences, I stubbornly rejected any lessons, and am entirely self-taught, starting with singing and piano in the 80's (uke's very recent – just since 2014). Today I sport a nearly 3-octave vocal range (tenor, alto and soprano) and although I'm not a belter, I can sing in many styles including jazz, blues, folk, gospel, and various cultural styles (mainly Latin and European flavors) and I can sing in several languages with excellent pronunciation. Weaving different textures and colors into my tone – appropriate to the emotive suggestion of the lyrics – is key for me, and I can even scat if I feel the inspiration. My piano never got very good, but I took to the uke like I was born for it; I can do a lot of strumming and percussive techniques, hammering, leave-offs, assorted plucking patterns, harmonics and various other effects, to give my playbook some variety and interest, and to help me to express the stories in the songs I play.
When I began playing, I was excited that the Internet offered ukulele tabs for many songs I wanted to learn – until I quickly discovered that many of the tab versions I found were incomplete, clumsily put together, or just plain wrong. Starting with the first song I taught myself, I had to do my own arrangements, including generating entire chunks of songs that had been skipped on the tabs I located. Soon I taught myself to transpose keys to suit my preferred vocal range too, when necessary. My arrangements, playing techniques, and vocal interpretations combine to produce a uniquely sweet and slightly spicy sound. Skills and techniques that I developed during this stage became doubly useful as I began composing my own songs and telling my own story.
INFLUENCES:
My inpirations include Ella Fitzgerald, Edith Piaf, Bjork, Regina Spektor, Julie London, Devotchka, Fiona Apple, Nickel Creek, the Beatles, Billie Holiday, Rush, Keith and Kristyn Getty, Louis Armstrong, Norah Jones, Blossom Dearie, White Stripes, Johnny Cash, Amy Winehouse, Sarah Vaughan, Allison Kraus, Simon & Garfunkle, Eartha Kitt, Emmylou Harris, and…oh, so many more. Diverse? Yes! Variety is the spice of life.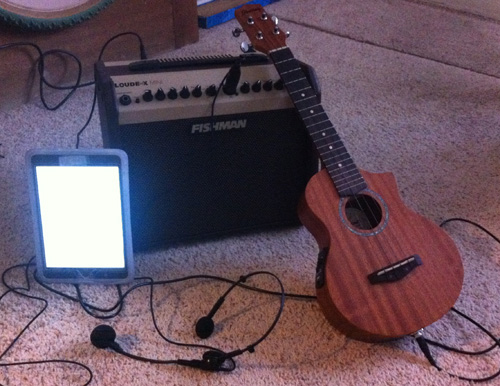 STYLE & GEAR: 
My voice is described as sweet, soothing and slightly flirty (even sultry at times), and aptly fits my instrument of choice right now: ukulele. I have both acoustic and electric ukes (the electrics are both by Ibanez), and a small, clean Fishman amp/monitor hybrid that accommodates my headphone/mic. I recently acquired a looping effects pedal (yet) but am still learning how to time it. Here's a quick pic (without my loop) to the right:
I still tend to push ukulele far beyond people's typically limited perception of its stylistic range, and have delved into pop, mambo, jazz, flamenco, rock, bluegrass, bolero, blues, country, rockabilly and alternative, all in my unique little style. I have a good ear for which songs do – or don't – adapt well to both the instrument and my voice, and am open to musical experimentation. I'm not a professionally-trained musician but I have, by declaration of several fellow musicians – a natural gift/great ear – yet a humble openness and quick response to guidance and wisdom from others. Many of the musicians I've met and befriended have been exceedingly generous with their knowledge, and I am ever grateful for them! Universal Music has been a great support to me with lots of free info, as well as helpful self-teach books, luthier services, and gear (I bought 90% of my gear there, and they reward customer loyalty), and even Wildwood Guitars (who regrettably don't sell ukes, or didn't back then anyway), threw me some good advice when I was just starting out. (Disclaimer: nobody knows I'm pitching or linking to them; I'm doing this for free because I believe in people. If I ever get compensated in any way for doing so, then I'll disclose that in close proximity to where it happens so that you know.)
More recently I added to my arsenal some recording components, since I'm so prolific and inspiration strikes at odd hours of the morning. If I didn't invest in this stuff I'd go bankrupt renting studio time. I'm working on perfecting and/or rerecording many of my songs so that they're cleaner and release-worthy. It'll sound much more professional but won't be so slick that I lose my folksy sound (no auto tune EVER, hello); it will be what I call handcrafted (like a microbrew). I have a nice Audiotechnica cardioid condenser mic on a stand with a pop filter, a Presonus AudioBox iTwo, and some sweet Audiotechnica headphones. I converted one of my closets to a recording booth and did all the soundproofing and sound damping I could manage on zero budget. I've already learned how to interface everything with my Mac and use a DAW edit the recordings, and have had some successful results, and I'm really happy with them! I've added other live instruments to my skill set to fill out my arrangements, and occasionally embellish with software instruments when necessary. I often hear whole orchestrations in my head. My learning curve is good on all of this equipment and software, but I'm not ready to offer recording services to others at this juncture. It's just too crowded in there, and it gets hot in that booth with just me in it. You can't just vent it or throw the door open; it defeats the whole point of proofing/damping. Where there is air transference, there is sound transference.  I've researched and learned a lot about soundproofing and sound damping, but short of building a house from scratch with a studio and proper air ducting integrally planned into it, I can't really resolve the ventilation issues in our current locale post-construction, so for now I must take breaks between tracks for the sake of temperature control and, well…you know, that pesky breathing thing. Paying my dues, I guess!
SERVICES, COLLABORATION, COMMISSIONS & BOOKING:
I'm available for playing solo at small, intimate (quiet-ish) venues like house concerts, coffee shops, book nooks, art venues, anniversary celebrations, birthday parties (I would suggest: for those interested in mostly retro/eclectic sorts of music), and similar venues – and just plain open mic and jam sessions with other like-minded musicians and singers. I consider myself a (quite prolific) singer-songwriter (six albums' worth of songs filed with Copyright Office just in a two month period in 2018 and about four more albums' worth ready to file at the time of this page's writing, which I may forget to update for a while), although I haven't posted many of my recordings online. I'm a poet/lyricist who can compose and write lyrics for just about anything on demand, and I welcome requests or collaboration. I also tend to make my own arrangements of covers that I play, even transposing keys if necessary. I often play ukulele while singing, but I am open to being solely a vocalist for some ventures that don't require uke. I'm also interested in finding/joining/forming a musically-compatible band. I can be in front or just as happily serve as support/backup singer – I simply love playing/singing. To inquire concerning any of these topics, or just to say HI, please use the CONTACT form.
     SPECIAL COVID-19 MESSAGE: I will consider gigs during this time, providing that all current government laws (mask and social distancing as well as gathering-number restrictions) are observed; I will also accommodate and protect the audience accordingly. I work on an hourly base-plus-tips basis.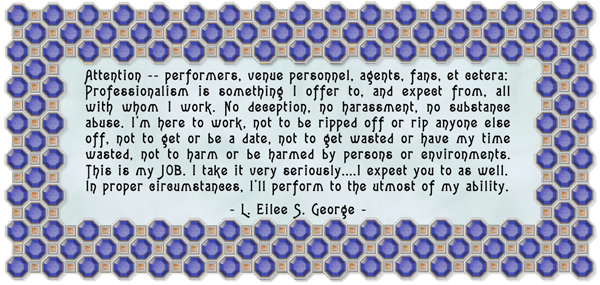 MEDIA:
If you would like to hear some samples, please see below, or again, if you prefer a broader sample check out my VIDEOS page, or even use the CONTACT form and I will work with you directly. Otherwise, following here are (1) a sample live recording – also (2) there is one phone-vid posting I know of that the owner of this amazing pizza place posted on his Facebook page – and finally (3) one of many multi-track recordings I did on Garage Band:
(1) "To Make You Feel My Love" by Bob Dylan: my live cover here is very raw, recorded on Garage Band, no studio pro, no editing/splicing, no effects, no walls; just me and the uke on a single track (and possibly a neighbor's dog or muscle car in the background, sorry; I must work my way up to better accommodations):
(2) "Sway" a.k.a. "¿Quién sera?", composed by Luis Demetrio & Pablo Beltrán Ruiz; English lyrics by Norman Gimbel. For my cover excerpt here, please forgive video/sound quality; it's a phone! It's at the following link via the thumbnail: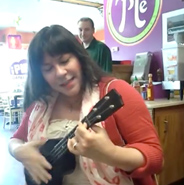 That's my vintage uke in that vid – 40-something years old and counting; my folks bought it in Hawaii in 1971. It has sentimental value mostly; I use higher-quality ukes now and I really want to preserve it. And… (oops if you're reading their description) – just to clarify, 🙂 the name is spelled Eilee – and pronounced like Riley without the R. By the way, Infinitus Pi (where this vid was shot) makes awesome-tasty pizza, and can supply a great gluten-free crust as well! (Disclaimer: so far they have no idea I'm pitching them. I just love their Pi, especially the Tamika, drrooooolllll….) We frequent the Broomfield locale. That's my hubby trying to dodge the camera in the background. Caught ya! (He better get used to the attention; he's learning electric bass). 😉
(3) "Association/Beatles Medley" – this is one of my favorite multi-track works; all tracks are by my own vocalization or instrumentation. It's not a great quality recording since I lacked the equipment, but what it does offer is an illustration of my ability to do unique and beautiful arrangements:
FURTHER MEDIA:
I'm adding videos I made on the new Videos Page – please visit it, as I will be updating it from time to time, but not likely updating this page too often.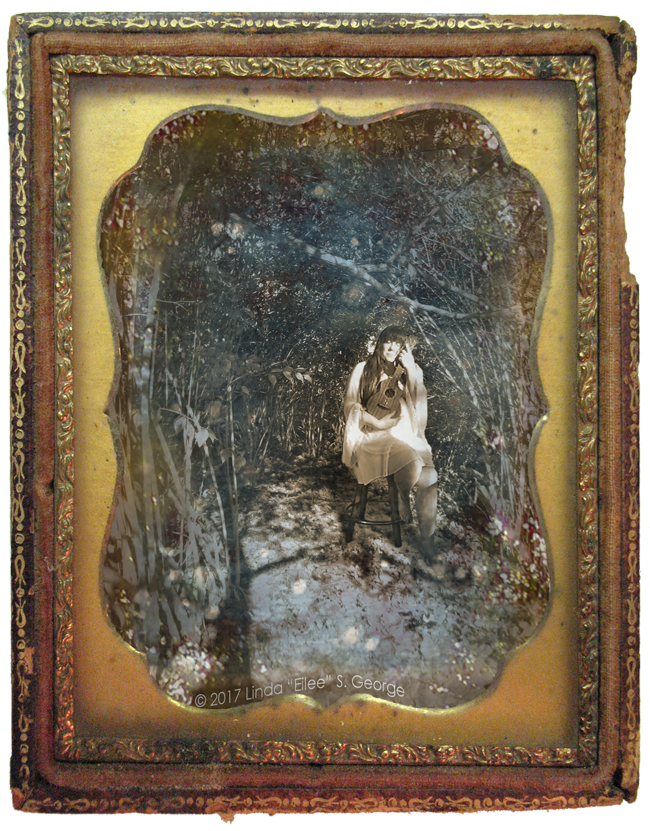 OTHER NOTES:
I play piano to some degree, although I don't consider that degree to be performance-worthy… it's good enough for studio though. I was learning mandolin but I don't think it will usurp my love of ukulele. I've been honing skills on bongo drums and a makeshift bass drum substitute by way of an old Samsonite suitcase. I have a keyboard and various handheld small percussion instruments. I'm of course awesome on the kazoo and can whistle like a songbird. I have access to my hubby's bass and can do what's necessary with it in the recording booth as well. I'm self-taught in all of my musical pursuits, and thus far it has served me well, allowing me to readily think outside the box on technique, but I'm not against proper training… structure is good. Someone may convince me to invest in that yet.
I do want to reassure my art collectors and fans that my art is alive and well!! Many series are in process and/or planning stages as I type this. Perhaps because of this new direction, I'll end up doing some music-themed paintings (hmmm). Also, as you can see from some of the pictures on this page and on my post announcing this page, I offer unique portraits and digital art. You may notice that these were all shot at the same location and manipulated differently, showing the variety I can create with just one source. In fact, I shot/posed for these sittings two states away from where I shot the background. So…mad Photoshop skillz for hire…and paintings, and drawings, and lessons, and web sites, and photography, and copywriting, and music performances – oh yeah, music!  😛
As I continually develop the music section of this site, I will post some more recordings on the VIDEOS page, and perhaps later on Vimeo or something. I'm trying to figure out the best media options for me…keeping in mind that I'm actually trying to avoid anything Google or Facebook, if at all possible (including Youtube and Instagram of course, since they're owned by Google and FB respectively). If you have suggestions on what has (or hasn't) worked well for you, I am very eager to hear about it! Again, please use the CONTACT form, as I've temporarily disabled my post and page comments until I can better control the enormous volume of spam I was slammed with before I did so. I really would love to hear from all of my legitimate visitors & real live fans. 
Thanks for visiting, and I do hope to hear from you!
♥ – Eilee G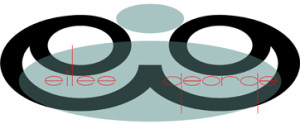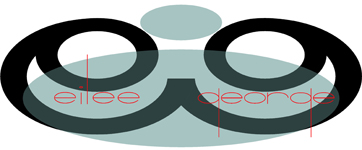 All content on this site © 2013-2020/present L. Eilee S. George; all rights reserved.