Location:

ART – Galleries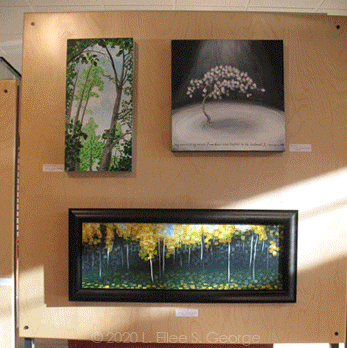 This is the hub for Eilee's different galleries. Currently Eilee has gallery pages for the media in which she most often works; namely: PAINT, DRAW, and PHOTO.
As an extremely prolific maker, this is but a small sample of her output. She works in many media and many styles, and can accommodate almost any request as far as style and subject matter. Portraits are not well represented here but she is a skilled portrait artist who can imbue her works with boldness or delicacy or other aspects of her subjects.
There will be more galleries as she parses through images of her sculptures, ceramics, prints, fiber works, costumes, scale model work, and other media that she has worked in. Of course, her skills in music, copywriting, graphic design and web design are evident all over the site, including all of the animated GIF items, videos and recordings.
To view the desired gallery, please click the appropriate icon in the right-hand column below:
Or, if you're seeking other art info, try:
Or:
Otherwise, maybe try these categories if you're up for anything:
Also, take a look at Eilee's Twitter page and Vimeo videos to get a better feeling for her brand of expression and inspiration.